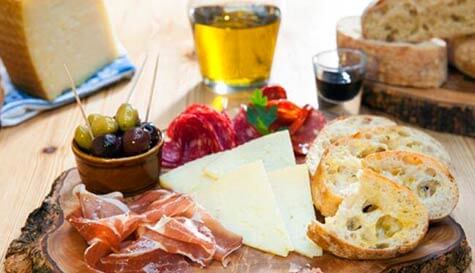 It's true a stag party marches on its stomach and the last thing any stag organisers needs is a load of hungry (and some whingy) stags complaining about the lack of food after you've spent the last hour walking the streets trying to find a restaurant that can take a table of 18 hungry stags at zero notice.

Among our selection of great stag party diners, we have tapas bars and restaurants across the UK and in Spain itself. Reminiscent of the sun, sea and sangria lifestyle the lads can eat drink and be merry with a huge range of tasty tapas dishes on the menu. That means there'll be something on offer for even the fussiest eaters. And lots of if. Not forgetting the churros!

You can raise your glasses to the main man with Spanish beers and wines, sangria, other beers and cider as well as soft drinks. Then round the fine dining off with a cup of carijillo (coffee with Spanish brandy).

The table will be booked ready for you and the whole meal will be prepaid so there's no chance of it descending into a 'who had what/I only had salad/can I pay with pesetas' nightmare where even Rachel Riley would struggle to do the maths. That means all you need to bring is your appetites and some money for the drinks.

If you really want to be the man with a plan add Guest List Nightclub Entry to your evening or some sexy Pub Crawl Babes.