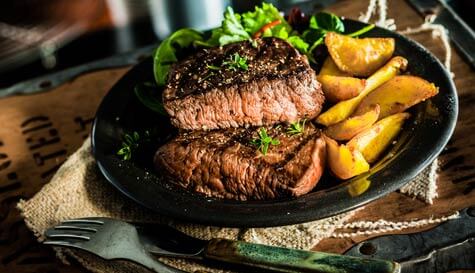 Napoleon once said that a good army marches on its stomach, now while we don't agree with all his views (we don't fancy invading Portugal or making our brothers kings) we do think he was definitely onto something. The guys might put up with a best man who hasn't put together enough Stag Do Games or more importantly Drinking Games but one thing they won't forgive is being hungry.
Make sure you're the man with a plan and all the guys are taken care of by booking this fantastic stag party restaurant. It's just one of the many reasons you will be considered the best, best man. Food is vital stuff and the guys will want to get fed, what they won't want is to be fed up looking for a restaurant and spend too much time walking around instead of eating drinking and being merry.
The restaurant will be booked and your table waiting for you, there's a fine array of choices on the menu to accommodate even the fussiest stags. To make sure the night runs completely smoothly we'll even remove any headaches at the end of the meal. Everything will be prepaid so you won't need to turn all Rachel Riley to split the bill, all the guys will need is a little spare cash to cover the cost of the drinks and any extras.