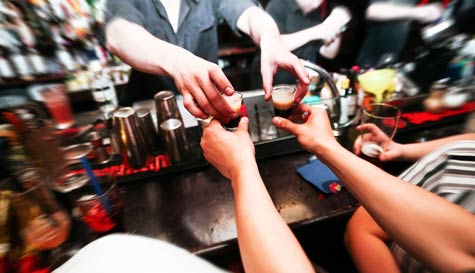 Well yeah, you could 'just go to a club'. But then again, you could just order a girlie cocktail and go and join the hen party. Man up!
This is a stag weekend, the groom's last hurrah, you can't do things in half measures. The evening deserves the best of the best. A night the guys will remember. An evening of epic proportions. Something that future generations will talk about around the campfire during the zombie apocalypse (it's coming).
And this fantastic VIP package is where it all starts.
You can create the perfect night to suit your group and budget. We'll arrange guest list entry plus a VIP booth, you can choose the rest.
Drinks Package - It's great to have your own booth and table, but that table will look a bit empty unless it's suitably covered in stag friendly beverages. You can select any or all of the following (fees apply);
8 bottles of beer (on ice, natch)
Bottle of house champagne
2 bottles of house wine
2 jugs of (man) cocktails
1 bottle of spirits with mixers
2 sharing party platters
Cocktail Mixing Package - James Bond, Earnest Hemingway, Jack Kerouac, Winston Churchill. Yeah, real men drink cocktails and while some (misguided fools) still seem to think cocktails are "totally gay" those sad pint carrying Neanderthals are missing the vital fact that cocktails are basically alcohol with added alcohol. Who's looking like a lightweight now shandy-boy?
In this amazing session, under the guidance of a master mixologist, you'll learn to mix and then more importantly drink your own classic cocktails. Cheers!