Things to Do in Nottingham
If you're looking for the ultimate in stag activities then Nottingham really is a force to be reckoned with. The nightlife is buzzing, the hotels are top-notch, its sporting pedigree and line-up of events are nothing short of extraordinary, and with the legendary Sherwood Forest on its doorstep, you'll have access to some of the country's best outdoor action. StagWeb are proud to have some of the craziest Nottingham man challenges known to stag-kind. And expert service that comes as standard, we won't just hand you your tickets and send you on your way, we'll match you with the very best locations and arrange the best times and transfers to build a truly unbeatable itinerary.
10 Epic Nottingham Stag Activities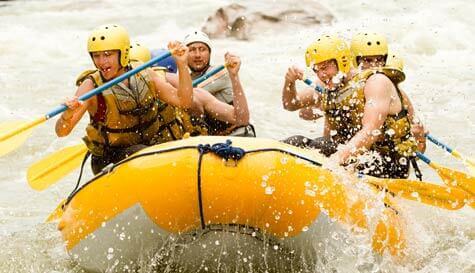 Merry men…
As legend and history would have it Ye Olde Nottingham played host to the high-jinx and tricks of everyone from kings, outlaws and the odd rogue sheriff to more than a few merry men along the way. It's impossible not to get caught up in the spirit of the city, so why not follow in the footsteps of the good, the bad and the downright dirty and throw yourselves into some of the top stag activities Nottingham has to offer (tights are optional, photos a must!);
Royal Sherwood was the playground of kings and with 150 acres, 7 game zones and up to 7 paintballs per second flying from your state of the art inferno markers, Nottingham's largest paintballing site promises modern-day stag hunting at its absolute best.
Mix man and mighty machine for the ultimate in stag battles when you and the boys take to your fully armoured FV432's for some full-on head to head warfare. Get to grips with the controls with a quick spin around the bombing range before your three-man armies engage in a session of all-out paint-splattered carnage.
For some full-on adrenaline-fuelled action take to the Midlands' premier outdoor track for the very finest go karting Nottingham has to offer. Team changes, pit stops, 500 metres of track and speeds in excess of 40mph all add up to a top afternoon's racing, and at only a stone's throw from the city centre, you're well placed for a celebratory drink or two when the competition is over.
Decisions, decisions…
At StagWeb we appreciate that not every group wants the same from their stag. For some it's about the action, for others it's about simply kicking back with lads before the big day. We've got a great selection of top activities and an expert team on hand to take care of the details, so with a little planning and a whole lot of input from the main man himself (it's his party after all!) we can help prepare a programme to suit.
So can we mix and match?
Without a doubt! The choice is completely yours, gents. We're committed to bringing you the very best of the action and with a wealth of local knowledge and unbeatable deals at our fingertips we'll help build the ultimate itinerary for a weekend the boys won't soon forget. Whether you're looking for a full day's event, fancy mixing it up with a few of our half-day activities or want to make use of our great multi-activity sites, we'll put together the perfect package to suit your budget.
Get down and dirty with a morning's quad bike action, then just get plain crazy with a hilarious afternoon's competition on the inflatables. Or for a more relaxed start to the weekend take advantage of the expert tuition at Nottingham's specially designed clay shooting site before rounding the day off bar-side with a glass of Russia's finest in hand.
Why book with StagWeb?
Quite simply, we're the best in the business! We take pride in creating truly unforgettable stag packages and our expert event teams handpick only the top activities, the ultimate venues and find the best available deals so that we can bring you the very ultimate in stag experiences.
StagWeb are ABTA bonded, assuring you complete financial protection
We offer exclusive rates to reduce booking costs
And provide you with your own dedicated account manager
And now?
Talk to us. It really is that simple. You're under no obligation and our quotes are risk-free. So if you're still unsure of the finer details give us a call or fill in the form and one of our friendly event managers will help you make the right choice for your group. The earlier you start planning, the greater the selection of Nottingham stag activities you'll have. So why wait? Get in touch today.
Send us a brief
Or call us on 01225 474200