Sten Do Definition
Noun - A sten do is a joint stag and hen celebration where the guests of both the bride and groom come together for one super party (Also referred to as a hag do).
STag + hEN = STEN Party
Joint stag and hen weekends, the sten do, have become increasingly popular in recent years and it's easy to see why.
It's the perfect chance to get all the stags and hens together for a unisex pre-wedding shindig with everyone laughing, playing and partying together.
At StagWeb we've been arranging stag parties since 2002 and our sister company GoHen.com deals in all things hen, so marrying the two together to create epic sten do is the perfect marriage - like fish and chips, Starsky and Hutch, beer and more beer.
How To Plan A Sten Party
We won't lie, it's not easy to plan a pre-wedding bash (we've helped over 600,000 clients head to theirs).
Getting all the guys together for a whole weekend can be a headache and with a sten do, you have to multiply the potential hiccoughs by two (although you also get to share the burden with the chief bridesmaid).
The results are definitely worth it, though, and StagWeb can take the stress away. Give us the number of guests, dates and location, and we'll take care of the rest.
Our VIP client area means you and the group can manage your booking from your smartphones while we do the running around for you. Plus, all your sten guests can pay individually online.
You can contact our team for a quick, hassle-free quote today on 01225 474200 or get a quote online. Enquire now.
Not Sure Where To Go?
No dramas! We have the greatest selection of party destinations in the UK, Europe and further afield!
Stag do destinations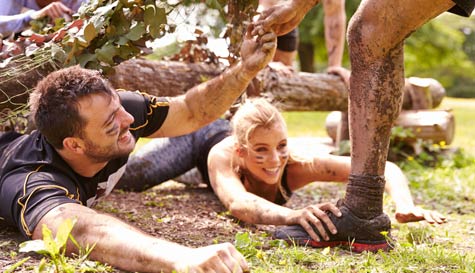 Friends With Benefits
There are a number of great benefits to a joint sten party:
Share The Cost - Rather than two expensive weekends, everyone can pool their resources for one massive weekend to remember.
A Proper Party - Weddings are a mix of different ages and family members. A sten party gives all the younger members of the wedding party a chance to really let their hair down and celebrate the happy couple's big day.
No Nagging - Stag and hen celebrations can be a cause for concern with nervous partners worrying about "what happens in Vegas." A joint sten do means no fretting and pre-marital harmony.
Check Out Our Activities
Sten Do Fun & Games
Stag party survivors will know that one of the best things at any stag do are the games and pranks – just imagine how much fun stag party games can be once you throw a few bridesmaids into the mix. Yep, we're talking a party of legendary proportions.
Here are some of the best activities for joint sten weekends;
11 Best Sten Do Ideas
No Idea What To Do?
Don't sweat it, fella! We have 1000s of the latest and greatest activities for your big weekend!
Stag do activities
Sten-Fest
If you're going to be getting everyone together for one massive celebration, then why not do it in style with your own mini-festival? We've teamed up with our sister site, GoHen.com, to create an amazing sten do festival package.
You can get all the hens and stags together to stay at a superb glamping site with a range of different accommodation on offer, including yurts, tipis, log cabins, bell tents, wooden wigwams, geodomes and more.
See more about our Sten-Fest here >
Live on stage...
And to ramp up the sten party carnival atmosphere, you can tuck into a hog roast before rocking it out to a live band!!! Your own live concert to really take things to the next level.
More fun and games...
You can also add an activity to create some stags vs hens rivalry.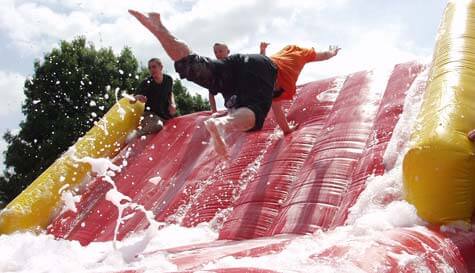 Inflatable Games
Available where? Nationwide
This is perhaps the perfect joint stag and hen party activity. You'll need to split the party into teams (either creating a battle of the sexes or mixing the two sets of friends together). Inflatable Games are essentially a mashup of all your favourite oversized TV game shows such as It's a Knockout, Wipeout, Banzai. Expect things to get messy. Read more...
Pub Treasure Hunt
Available where? Nationwide & Europe
This is a battle of wits mixed with a few friendly visits to waterholes along the way. The whole event is directed using SMS text message technology. The teams will have to answer clues, take photos in funny and compromising positions, shoot hilarious videos and more as the adventure takes you between pubs. Perfect for setting up a battle of the sexes. Read more...
Somerset Challenge
Available where? Bath, Bristol, Cheltenham
Imagine the Olympics being run by the Wurzels and fuelled by scrumpy cider... Now add a group of excitable stags and hens, light the fuse and stand well back. This crazy mix of giant games is hilarious from beginning to end - especially when the forthcoming bride and groom face the 'Farmer's Shower of Truth'. Read more...
A Day at The Races
Available where? Nationwide
Add a little sophistication to your sten party with a day out at a top racecourse. This is perfect for groups that fancy getting dressed up and stepping out in style. It's ideal if you have large numbers of guests that haven't met before as everyone can mix and mingle at will. There's the added bonus of everyone being able to have a little flutter and hopefully back a 100-1 outsider (which some might argue were the odds of the bride-to-be actually agreeing to marry the groom in the first place!?!). Read more...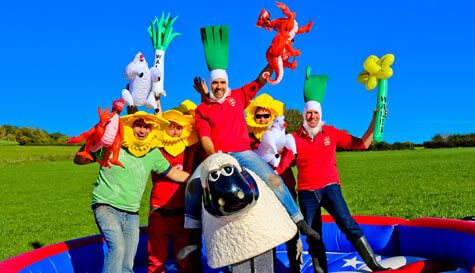 Welsh Challenge
Available where? Cardiff, Brecon, Swansea
Created by the same messed up minds behind the Somerset Games, The Welsh Challenge takes one of the UK's best party cities and covers it in its own blanket of weirdness, force-feeds it leeks, warms it with dragons and then sends the teams out to do battle with totally mad and hysterical results. Read more...
Paintball
Available where? Nationwide & Europe
Paintball has massively evolved in recent years. Once the preserve of the weekend warrior, sites are now totally modern with increasing numbers of femme fatales taking up arms. You'll be issued with state-of-the-art weapons, split into teams and then take on your own sten party Call of Duty in fantastic and complex missions. There's also the opportunity to make sure the groom gets a complete Dulux makeover from the lads. Read more...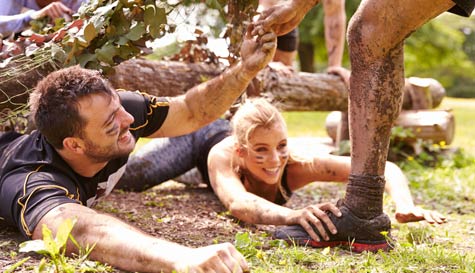 Assault Course
Available where? Bath, Brighton, Bristol, Exeter, London, Nottingham, Torquay, York
If the nearly-weds are adventurous types, then an assault course could be just what the sten doctor ordered. It's rough, ready and brilliant fun. You can split the sten party up into teams of mixed ability to create some good-natured rivalry and present a prize to the winning team and (bride and groom themed) wooden spoons for the runners up. Read more...
Go Karting
Available where? Nationwide & Europe
It's the fast and furious sten party style. Go Karting is something to suit everyone, and we have incredible arenas across the UK and Europe including tracks that feature on the Karting Championship circuit. You can race in a Grand Prix style event or Le Mans to create some real team bonding between the two groups. Read more...