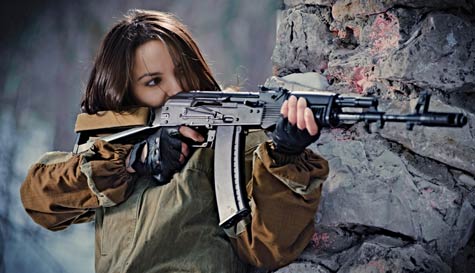 The Kalashnikov, or as its better known, the AK-47 is the most famous gun of all time (it actually holds a Guinness World Record). In this incredible stag activity we'll get you on the safe end of not one, but two pieces of incredible firepower in a stag activity none of the lads are likely to forget in a hurry.

Squeezing off a couple of rounds from these bad boys is awe-inspiring, nerve-jangling stuff. No matter how much of a tough guy you think you are, you'll soon feel your pulse rise as you feel this kind of formidable weaponry in your hands.

As well as the AK-47 you'll also get to grips with the M16, America's answer to the Kalashnikov. It's like having opposing arguments of the cold war and the weaponry to settle it.

But of course, it wouldn't be a stag do without some healthy competition so you and the lads will be measured up against each other in a target shoot-off. Both of these guns are on top of the automatic weapon league and getting the chance to hold or touch one, let alone to take aim and fire, is very hard to come by. It's the perfect stag do activity for any groom to be who loves a good action movie - now you have the chance to make his high-octane dreams come true by giving him the chance to fire AK47s and M16s!

There are several programs available tailored to both economic and shooting preferences, so if you're familiar with shooting, your instructor can adapt your programme to suit your better ability. AK47 shooting is only available in safe environments and is lead by experienced and professional instructors. With guaranteed safety, you can get on and enjoy one of the best activity experiences you'll find in the whole of Europe!