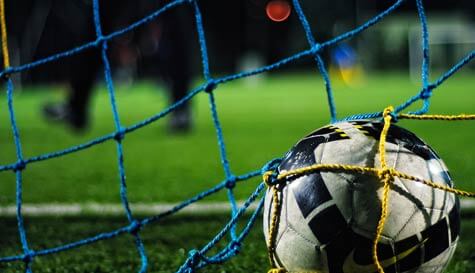 Amsterdam has produced some of the world's greatest footballers; Johan Cruijff, Ruud Gullit, Patrick Kluivert and Frank Rijkaard, and this is your chance to have a kick around in their back yard. 5-a-side is always a firm stag favourite, adding a bit of competition to the weekend and offering a good chance to sweat out the excesses from the night before. We'll arrange for you to be picked up from your central accommodation and taken to your match day venue with changing facilities and somewhere to grab a drink afterwards. Make sure you warm up before the game, you don't want to pull a hammy ahead of the evening's festivities (or expose yourself to merciless p*ss taking from the rest of the caring stags).
A ball and bibs will be provided for you if you haven't had your own shirts made complete with hilarious nicknames on the back; "Razor", "Chopper", "Nancy". Suck-ups might prefer to wear orange to sway local support your way. Larger groups can arrange their own mini tournament, we'd always recommend picking sides and setting the games up before the day so you don't lose valuable playing time.
It's then just a matter of letting your feet do the talking, a chance for you or the groom to show off your tekkers, make your opponents look about as talented as Birmingham City FC (during the Zola era). And let's not forget that Holland is the home of Total Football, yes they haven't won a great deal of international silverware over the years but their coaching and understanding of the game really is second to none. What difference that might have on a bunch of hungover Englishmen thudding around chasing the ball while desperately trying to hang on to their breakfast as well as last night's beer, remains to be seen.
But 5-a-side is an easy way to add some great competitive spirit into the weekend, get a bit of exercise and sweat out some beer. The other brilliant side-effect is that it will make you thirsty and ready to rehydrate in a country that just happens to be absolutely brilliant at brewing beer. Coincidence? We think not.
Game on!