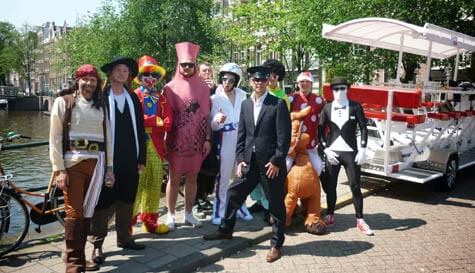 It's like someone sat down and worked out man's perfect weekend activity. "I want to be sat at a bar, with all my best friends, while gently exercising and drinking beer. Oh and fresh air."
Gentleman may we present... Our beer bike!
Pedal, pour and take the pilsner out of the groom aboard our Amsterdam stag do beer bike, possibly the greatest mode of transport ever invented.
Want to get out and about in Amsterdam but walking just doesn't cut it? Look no further than our thirst-quenching beer bike! Glide through the Amsterdam streets in style with our tandem bicycle while enjoying a twenty-litre tank of beer with the guys. This is the ultimate in mobile drinking luxury.

You'll be greeted by your own chauffeur before boarding this custom made bike and enjoying a guided tour. It's a great way to hit the streets, soak up some of the local culture and drink beer, what's not to like? Plus you can put this in the healthy column, you weren't just sitting in a pub, you were out cycling, the fact that there was beer on tap was purely for rehydration.
Ok, so Premier League footballer and Olympic athletes probably don't include a beer bike as part of their training regimes but quite frankly it's more fool them because they don't know what they're missing out on. If only all exercise tasted this good we'd be riding in the Tour de France next year. Our Amsterdam beer bike is the stuff of stag do legends!