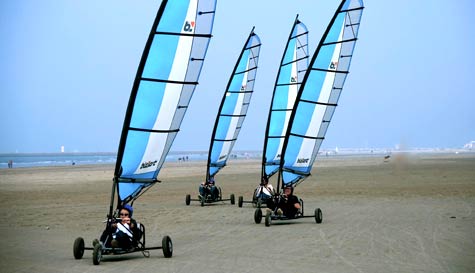 Four words: Blo Karts are awesome!

Once upon a long time ago, someone took a go-kart and decided it wasn't fast enough with a mere engine. So they removed the offending article and replaced it with a sail, setting the kart free to skim along the sand at a bug-swallowing 60mph. And lo... the blo kart was born. Hallelujah!

We're not sure who invented blo karting, but whoever he/she is, they deserve a medal and some kind of plaque for having created so much utterly mad, adrenaline-fuelled fun. And we can assure you, being so low to the ground means it feels even faster. It's simply wind-powered madness.

This is the kind of activity that none of the lads are likely to have tried before and we're certain it will be a talking point of the weekend. Not only is it really chuffing fast adding that all-important danger element, but it can also be hilarious, watching your mates get to grips with the rig, taking a corner a little too enthusiastically and ending up kissing the sand.

Once the guys have finally mastered their karts (and you've all made enough wind and blo job jokes), you'll then line up for a series of races to find out who is the stag weekend's king of wind (insert more jokes as required).