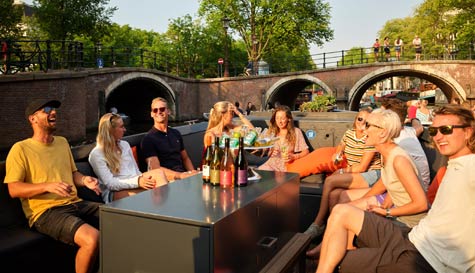 Amsterdam is renowned worldwide for its somewhat liberal approach to certain vices; from coffee shops to the Red Light District, the city is notorious for a laid back vibe that is totally unique and unrivalled in Western Europe. You also can't seem to go a minute without seeing a native on a bicycle (of which there are 600,000 alone in the city). A great way to escape the constant swarm of cyclists is to head to the water.

The Dutch capital is also famous for its canals... of which there seem to be thousands! Well, mathematically there are 165, with an impressive combined length of around 60 miles but whose counting? You can't spend all day in the Red Light District and sex museum and there is no better way to see Amsterdam than from your own private boat as you weave through the miles of canals with good mates and some chilled beer. We can even add a stripper onboard if you'd like even more great sights to see.

This 90 minute journey embarks from the centre of Amsterdam, and you will have your own skipper, host and free drinks (including beer, wine and soft drinks) to see you on your way! "Cheers!" Or as they say in Double-Dutch "Prosit!"