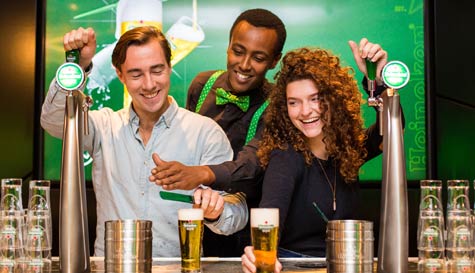 Our stag party Heineken experience in Amsterdam is a must for any stags that are pint enthusiasts. Bang in the centre of Amsterdam, the Heineken brewery has been operating for over 800 years which in terms of pints is roughly... Erm... carry the 3... Well... A lot!

Heineken have been brewing perfect pints for over 135 years now, but it'll only take an afternoon for you and the lads to find out just why this drink is so successful. The interactive day gives you a huge insight into the world of lagery goodness and is an absolute must for fans of homebrewing with a chance to pick up a few tips.

You'll get prepaid tickets so you won't have to deal with any long queues when you get to this extremely popular tour. You and the boys will get straight to the good bit - the beer!

There's a load to do here including exhibits and demonstrations as well as some interactive sections and documentaries. This really is the ultimate brewery tour with so much to learn for real beer enthusiasts.

You'll get a full tour of this awesome brewery including a look at some of the older machinery that was involved in making that original Heineken brew that started it all. Of course, you'll also get to try a sample of some factory Heineken to round off your day. You'll certainly work up a thirst for it after this epic tour.

This stag party Heineken brewery tour is a unique inside look at what goes into producing a pint of the Dutch's finest and a must for stags who love their beers!