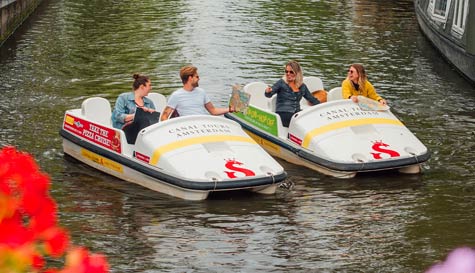 Trust the Dutch to come up with this totally nutty, totally epic, stag party classic. You and the lads can race through the famous Amsterdam canals in furious stag vs. stag competition, hunting down treasure in order to emerge victorious in the Dutch capital.

Set sail in your pedal-powered vessel and try not to go overboard as the stags attempt the impossible: to work as a team. With some stags pedalling away others gawping at their surroundings while one hapless stag does his best to navigate your team through the canals of Liedesplein and the Red Light District. You'll have to dodge the other team and work your brains as much as your feet if you want to claim victory in these waters.

The stags won't forget their pedalo treasure hunt in a hurry: it's totally hilarious. You'll be throwing smack talk at your stag rivals and doing your best to make their day hell. With the added obstacle of avoiding other canal traffic and dodging the odd duck here and there, this is one stag gauntlet that shouldn't be taken lightly.

Your 'canal bikes' (as they're affectionately known) can only go as fast as you can pedal, and it can be pretty tiring work so make sure to swap seats if you want to keep fresh legs for the rest of your Amsterdam stag do.

Our pedalo treasure hunt promises non-stop laughs from start to finish as well as plenty of banter for many pub trips to come!