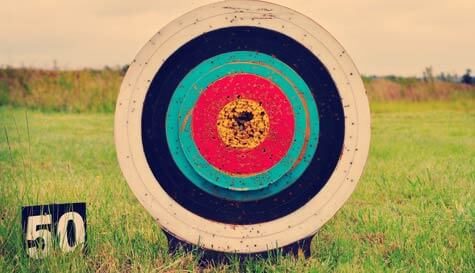 Our Bath archery site is one of the top in the UK. Archery is a skilful sport requiring balance, poise, accuracy, vision, timing, action - in a test of nerve.

Now combine that with a group of slightly hungover guys whose idea of accuracy is a headshot on Call of Duty. Yep, this has all the trappings of a hilarious afternoon of great stag banter and competitive man-sized competition.

England has a fine tradition of longbows, having at one point been our principal weapon and deployed with devastating effect at Crecy and Agincourt. In fact at various points through history, it has been law for all Englishmen of a certain age to practise with a bow. Don't believe us? Check it out for yourself, Archery targets were called "butts" so the practice areas were commonly known as "the butts", to this day most towns and cities have a street or close still named "The Butts" which would originally have been a practice field. That's some StagWeb QI right there.

As for the danger factor, yes, these things are deadly, the draw of an English longbow could pierce plate armour, so you and the guys will need to listen up to the safety briefing to ensure you don't give the groom an interesting new piercing.

Apart from that it's game on and may the best man (or another of the stags) win. We suggest spicing things up with a gentlemanly wager or forfeit for the worst shot.
Why not add...