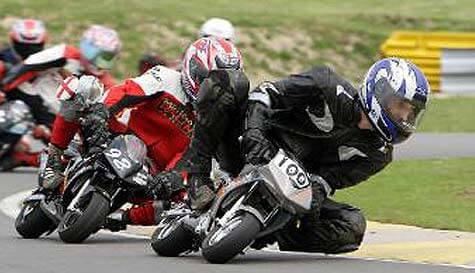 You might not have expected to find yourself racing wheel to wheel on motorbikes that look as if they escaped from the circus, but our mini motos could be the surprise highlight of your entire weekend.

These little bikes might not look like much to the untrained eye, but when you're perching on one of these bad boys, flying around the track at 30mph you'll soon realise that this is an adrenaline-pumping thrill ride. Especially when you're overtaking your mate, waving 'bye-bye' as you zoom past!

There are some serious thrills to be had here as well as laughs. You'll be racing wheel to wheel on micro-machines that are 18" high and powered by 39cc, 2 stroke engines that'll give you a terrifying amount of speed when you're this close to the ground.

You and the boys will take to this specially designed circuit in stag on stag competition. Race against the clock and each other in this tricky test of high-speed control and stamina, finding out who's a 'Stag Stig' and who's really just 'Captain Slow'.

Mini motos is definitely one of the more unique racing events, and it's sure to offer the lads an experience that they'll never forget. Just make sure you bring a camera to catch video footage of the groom, 'n'aaw look at his dinky little bike!'

After taking on this intense activity, we assume you valiant stags will have built up quite the hunger. With that in mind, why not add on a cheeseburger or hotdog and chips meal in the awesome on-site American diner for just an extra £6pp? Please speak to your Destination Specialist for more details.