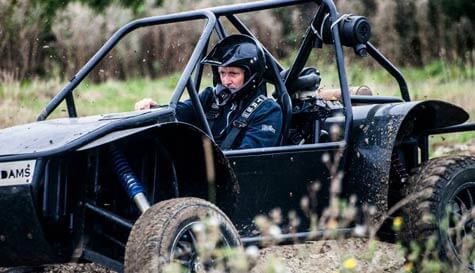 Go karting is brilliant fun, one of the best stag activities ever, the only slight snag is you're restricted to sticking to tarmac. Off road karting was invented to take karting in a whole new, brilliant direction. And then some bright mechanic, sniffed a little too much petrol and come up with the RAGE BUGGY, the angriest off road vehicle known to stag-kind and the most fun you can have in a vehicle without seeing flashing blue lights in your rear view mirror.

Essentially the Tasmanian Devils of the motoring world, our Bath stag party Rage Buggies will rip through pretty much any terrain you point them at. Designed around a roll cage, with high profile, off-road tyres and adapted suspension they are designed with a low centre of gravity to make them hug the ground as much as possible.

However, the lightweight design and powerful engines means there's also plenty of chance of getting air. The machines are beasts! We'd, therefore, recommend you try to keep them shiny side up at all times, which isn't as easy as you might think when you're racing against your fellow stags in a "last stag takes a dare" race to the death pub.

The superb site has a fantastic purpose-built track that has been designed to push both the buggies and drivers to the absolute max. So if you really do feel the need for speed and want to let off a little road rage then these miniature mean machines are definitely for you.
Why not add...
You could also go double bubble by adding a second activity to your day (fees apply).