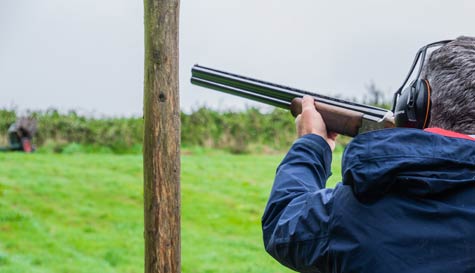 Striding through the countryside, guns in arm, is about as masculine an activity as you can get on a stag weekend without actually having to arm wrestle a bear. As we don't condone the latter we suggest that adding clay shooting to your Belfast itinerary is a great idea.

Our Belfast stag party clay pigeon shooting ticks all the boxes;
Extremely competitive - pitting you and your fellow stags against each other in a measure of your man skills with a mixture of different and challenging traps, stands and clays.
Challenging - It's not something most of the lads will have tried before so they'll need to get to grips quickly or lose badly.
Thrilling - It involves guns and sodding loud noises. 'nuff said.
It has the potential for one of you to get hurt. - While all stag dos seem to revel in seeing one of their own take a faceplant, you'll have qualified instructors with you at all times to ensure safety.
Even the lads with god-awful aim will enjoy it. Clay shooting is a hit wherever you try it, but our Belfast stag clay shooting site is one of the best. There's even changing facilities on site if the groom has to don fancy dress on before heading out, as well as a fully licensed bar and restaurant for getting the night started. Though, make sure you wait until after you've taken your last shots to get started on the, uh, shots.

A great way to crown your own stag do Top Gun.

We suggest adding another activity to your itinerary, such as our awesome Archery, Paintball, 4x4 Driving packages? Or why not take on our Activity Day? Please speak to your account manager for further details...