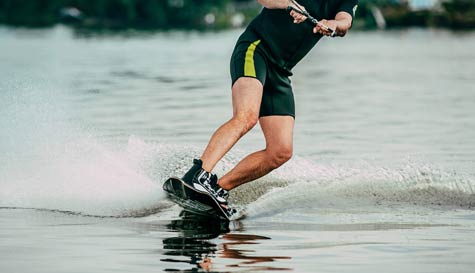 It's your best mate's Benidorm stag weekend, one last chance to show him how awesome single life can be by sending him out on the open water moving at high speeds with nothing but a wakeboard for company. Sounds like a recipe for disaster but that's where the innovative and easy to use cable comes in. Cable wakeboarding, in which you're pulled by a cable instead of a boat, is actually much easier than being pulled by a boat because there are no extra waves for you to have to deal with. Increasing your chances of your groom looking like the king of the surf.
The 1,000-meter cable system is used to pull you through the water, all you have to do is keep the wakeboard between you and the water. Succeed and be crowned the greatest stag that there ever was as you glide across the water channelling your inner Aquaman. Fail and watch helplessly as the water rises to meet you and your stags rush to the viewing platform to get video evidence of your wet and wild failure. But as we've said, cable wakeboarding is much easier than the traditional kind, so you should have no trouble cracking it early on… Right?
Well, you will have plenty of time that's for sure, 1,000 meters is a lot of cable so there's no excuse for not getting it right at least once. On a serious note, the cable-based system is far better for the environment long term as they don't require petrol and are much quieter, so you'll be able to hear the slap as your groom belly flops at high speed for the umpteenth time.
Test your groom's sea legs and create some awesome memories even if he fails. It's what he wants, if he didn't he wouldn't have put you in charge!
Wetsuits are available in the colder months.