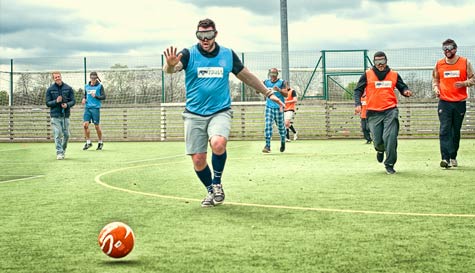 Stag party goggle football is one of the funniest versions of the beautiful game ever. If your two greatest joys are the beautiful game and watching your mates make complete arses of themselves then you're in luck.

Stag party goggle football is best mixed with another activity to create a complete afternoon of stag madness. Ask our team for more details.

It's all kicking off!
The game kicks off like any other 5-a-side, in fact the rules are all completely the same. The big difference is all the players are wearing goggles that either make the ball seem either 10 x closer or 10 x further away. The ensuing air kicks, missed headers, players colliding is hilarious!

Imagine watching your best mate, sweet footed king of the wing that he is, suddenly reduced to a fumbling slow moving target as he trundles along trying to find the ball that is right there at his feet! Goals are much harder to come by but the laughter just keeps on coming.

The deception of the glasses is really difficult to get your head around at first, after a while the lads will start to get used to seeing life through a distorted lens and they'll soon be exchanging swift passes like Sam Allardyce and Ian Holloway... in a very dark forest... in thick fog.

The look of complete bemusement the first time the groom runs up to strike a penalty only to find he's either kicking air or tripping over the ball is brilliant and well worth the trip alone. It's a penalty horror that will haunt him for days. Or at least until he's had the evening's first pint anyway.

The session includes:
Event Coordinator
Pitch hire
Bibs
Footballs
10 x pairs of assorted goggles
Forget the lads' usual footballing abilities, our goggle football stag party really will put all the lads on a level playing field. And then see them falling over on it. A lot.