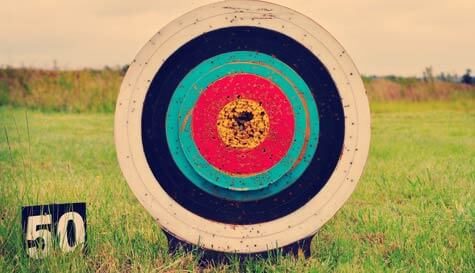 If you're looking for some great sporting stag competition using equipment that has the potential to kill your fellow stags (or at least give the groom a bloody big piercing) then archery is for you. You and your merry men can battle it outshot by shot in a test of nerve, skill, accuracy, poise, balance and how much you've sobered up.

Prizes will be awarded to either the top archers or the best team, depending on whether you want individual shooting or teamwork.

Archery has a fine tradition in England, so this excellent competition will be steeped in English lore.

Archery QI
The English ability with the longbow made our army one of the most formidable in Europe. Famously at Crecy and Agincourt.
At various times throughout history, it was made law for all Englishmen to practise archery on a Sunday.
If your town/city has a street known as "The Butts" this will have been the medieval archery field. A "butt" is an archery target.
King Henry the VIII banned football as it was believed it was distracting young men from the archery practice.
Yet 'enry the VIII was the first man to own a pair of purpose made football boots. He was also a very keen archer and renowned shot.
Most "Robin Hoods" have dodgy English accents; Sean Connery, Russell Crowe, Kevin Costner...
After a safety briefing and introduction to the bows, you'll be taking it in turns to shoot at the targets. It is the real and more dangerous version of darts, the essential difference being you want have to stop playing every time someone wants to walk past and put another record on the jukebox. This is a perfect stag competition; dangerous weaponry, wide-open spaces, and every stag for himself. Game on!

Please note; any stags who are over the limit or considered not fit to fire will not be handed a bow.
Double bubble!
Why not add even more fun? We have even more mad activities at this site. Please ask our team about a deal to add any of the following activities to your day: