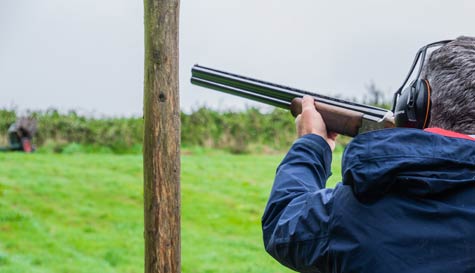 All good stag weekends require some basic components; great beer, sporting competition and a group of good friends all ripping into each other at the drop of a hat clay pigeon.

Our Birmingham stag party clay pigeon shooting gives you the perfect chance to not only exercise those sporting rivalries but also let loose with some great stag banter as each stag will find the whole party watching (and possibly laughing) at his every shot.

Under the guidance of a CSPA (Clay Pigeon Shooting Association) instructor, you'll learn the basics of this Olympic sport. It's a lot harder than you think but the kick of explosive power of the Browning or Beretta guns is hugely exhilarating and this is a hugely addictive sport. Plus having your ear to that close to a discharging shotgun is quite a hangover cure.

You can opt for 25 or 50 clay competitions (ask our team for details) and all the guys will get time to fire off a complete stand (there are five stand in total in a normal round of shooting). While the banter is encouraged the instructor will help take charge and literally keep the guys pointing in the right direction for safety. Once the dust has cleared and the clay pigeons have been collected (many of them possibly still in one piece) a winner will be declared among the group to lord it over his lesser rivals. Congrats... Now buy the drinks.

This activity takes place on an awesome multi-activity site and is great combined with other events, such as; Clay Shooting, Quad Bike Racing, Segway Racing or Blindfold Driving. Please speak to a member of the team for more details.