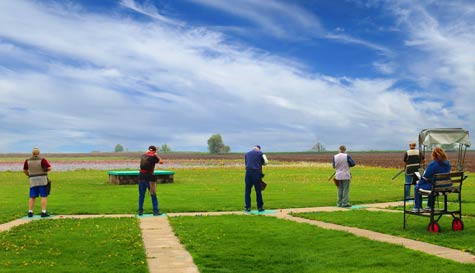 Although we obviously don't ever encourage stags to over-do it, we believe that you shouldn't have to waste valuable time trying to a shift the hangover from hell when you should be out and about having stag party fun.

So if you're feeling a little worse for wear, our Birmingham laser clay shooting could be the thing for you. It's got all the thrills of regular clay shooting, but without the loud gunfire that you definitely wouldn't need after a big night out. You'll get hands on with some awesome shotguns that have been repurposed to fire high tech infrared lasers.

But without anything to shoot at, there wouldn't be much point for this awesome revamp. So you'll be heading down to our range where you'll open fire at a variety of flying clays to put your sharpshooting skills to the ultimate test.

Laser clay shooting demands pinpoint accuracy at all times if you're going to end up top of the leaderboard. So if the groom is always boasting about his T-1000 level reactions on Call of Duty, you can finally make him walk the walk in this epic shooting challenge.

There'll be no room for score disputes either, as this course has been fitted with a state of the art electronic scoreboard. Every hit and every miss will be counted as you and the lads battle it out in the ultimate stag on stag shooting competition.

Laser clay shooting provides some serious thrills. It's a great way to get everyone going again and let's be honest, who doesn't want to prove they can shoot better than their mates?