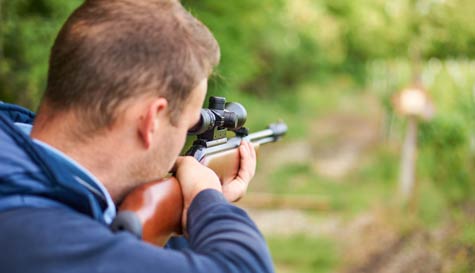 Our Birmingham rifle shooting is a great option for stag groups who enjoy a bit of competition! There is no better way to get the lads together and blast away the cobwebs than a day of intense and competitive shooting. It's also a superb way to let off some steam and is also an amazing way to break the ice between any unfamiliar stags.

During the 1890s, competitive target shooting was a hugely popular pastime in Birmingham and matches were held in local public houses. Traditionally prizes such as a leg of mutton were bought by the losing team... whether you lot want to take it this far or just let them buy in the first round at the pub later is up to you, but either way, it's a great way to spend some time with the lads!

It's not all about sheer might! With focus and steady hands playing a large part of shooting prowess, it works perfectly if you've got a group with a fairly broad range of ages and fitness since everyone can take part without trouble.

With specifically designed targets offering varying levels of difficulty, this is a great opportunity to step up to the plate and test your hand-eye coordination, as well as giving the guys a weekend they won't forget! Patience, accuracy and stag killer instinct will all play a vital role in deciding which stags emerge victorious from this epic shooting session.