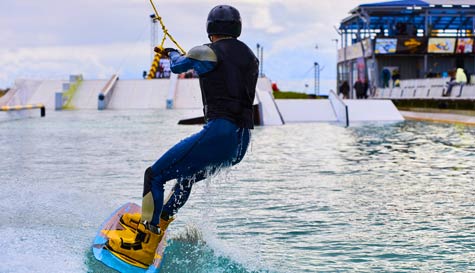 If you've taken on the challenge of organising a midlands stag do, satisfying the boy's needs for wet and wild action on their big weekend can be pretty tough. After all, the midlands are in the middle-of-the-land. But don't sweat it, with our Birmingham wakeboarding you can go from stag organiser to stag legend in no time at all, as you take the lads on one of the highest-octane water sports around without a beach in sight.

Wakeboarding is a suitably mad stag activity for your big weekend. This is thrilling, relatively dangerous and a whole lot of fun. Our Birmingham site is simply epic, with two straight-line cables and five 'brown-trouser' obstacles including two small jumps, a spine kicker, straight box and rooftop system.

Don't worry if you're a beginner to this madcap water sport, in fact, it can be far more enjoyable when you are. The cable tow system in place allows your expert instructor to control the starting and riding speed based on your experience - we're sure to can persuade your driver to crank it up for the nearly-wed though.

With some top tips, you'll get to master a new sport or laugh at your mates while they fail miserably. Stags waiting their go on the board won't be left on the sidelines for long, and there's plenty of fun to be had on some crazy inflatable rides that make use of the same 170-metre cables while they wait.

Sooner or later, all the lads will be up and flying like slightly hung-over and off-balance dolphins. Of course, falling over is all part of the fun, and there's great banter to be had when the groom takes a dunk into the water.

Birmingham wakeboarding is the perfect ice breaker; this is top-drawer, adrenaline-pumping action and it's the perfect way to kick off any day of stag action in the midlands.