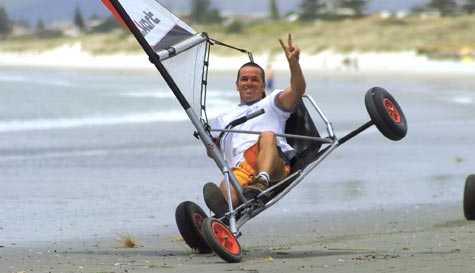 Blo karting is another crazy activity from the adrenalin sports fraternity which combines single rig sailing, go-karting and some of the UK's finest beaches and rolls them all up into one epic afternoon of stag madness that none of the lads will have tried before.
Blo karting is fast, and we mean bloody fast! Once you get moving and learn to really master the controls you'll be amazed at the speeds you can reach. You'll also have the added thrill of racing alongside your fellow stags, you can then start to get sneak; learn how to kill their wind in clever manoeuvres that will leave them floundering while you race past looking cool calm and collected.

It's a really easy activity to get the basics so all the lads (even the most 'James May' among you) will soon be racing along. Cornering is excellent, get it right and you'll have a dramatically looking two wheel turn as the rig lifts you up. For those that get it wrong, it's a face-full of sand and constant reminders from the rest of the stags for the rest of the afternoon/day/weekend!

The karts can reach speeds of 40 miles an hour and really will get the adrenalin pumping. You'll also be surprised what a good workout it is, as skilful drivers will soon learn how to use their body weight to their advantage. Of course, some of the stags naturally have more wind than others, but that's a whole other story.

Blo karting is ultimately an activity that none of the lads are likely to have come across before, an extreme and entertaining experience for any stags who like to live life in the fast lane!