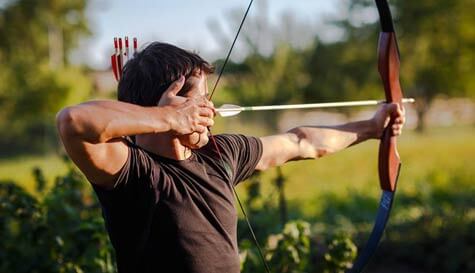 Archery has played a vital party of our nation's history, at one time men were even required by law to attend regular archery practice. Things have moved on since then, and in order to ensure we help turn stags into merry men, we've added exploding targets to our Bournemouth stag party archery.

Using a variety of bows, including traditional longbows (as used at the Battle of Agincourt) you'll receive expert instruction before going head to head with your fellow stags to see who will be crowned the groups own Robin Hood and which of you is more of a Maid Marion.

But to keep things interesting, as well as any wagers you might have running between you, we've upped the ante by adding explosive targets. Score a direct bullseye and... BOOM! And with up to four stags shooting at any one-time things will soon really heat up.

This really is a great sporting contest that will put all the guys on a level playing field to see who will be number one.
Why not add...
You can have twice the laughs with a great deal when adding a second stag challenge to your day. Please ask our team for more details.
Or take it to the max with our Ultimate Stag Challenge. Read more...
Archery QI
The English army's unrivalled ability with the longbow defeated the French at both Crecy & Agincourt and made us "nearly invincible" to the French.
In medieval times an archery target was called a "butt". To this day many towns and cities have a street called "The Butts" which would have been the site of the old archery practice range.
King Henry the VIII banned football as it was believed it was distracting young men from their archery practice.
This is despite the fact that Henry owned the world's first pair of football boots (rumours that Harry Redknapp is looking to bring him out of retirement are unfounded).