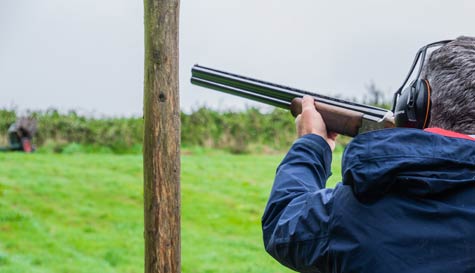 Our Bournemouth stag party clay pigeon shooting is epic on so many levels; it's Olympic style sporting competition, it's ideal for a stag group of any age so even the father of the bride can join in, it is quite literally a deadly activity and standing holding 12 gauge shotguns is hugely exhilarating.

It also just so happens that standing holding a shotgun to your cheek, squeezing the trigger and feeling the massive kick and huge explosion right next to your ear is just about the best hangover cure known to stag-kind.

You'll be under the guidance of an experienced CPSA (Clay Pigeon Shooting Association) instructor who will be on hand to ensure all the lads are kept pointing in the right direction and help you get the most out of what is a hugely exciting and addictive sport. Each stag will get one on one training before you all take it in turns to fire with your fellow stags watching your sharpshooting skill (or letting taking aim with their own stag banter at each shooter's expense).

While the instructor will help keep things safe, the stags can compete to find out who is the group's "Top Gun" and who really shouldn't be answering the Call of Duty anytime soon.
Why not add...
You can have twice the laughs with a great deal when adding a second challenge to your Bournemouth stag do. Please ask our team for more details.
Or take it to the max with our Ultimate Stag Challenge. Read more...
Set in the Dorset countryside this is one of the best stag shooting locations in the country with an on-site bar and cafe to toast the winner and grab a bite to eat at the end of the event.