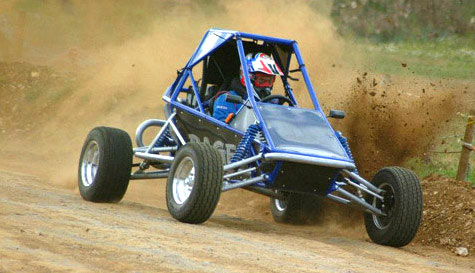 When go-karts first went off-road things were calm and peaceful and people happily enjoyed a gentle new experience... Then Rage Buggies came along and things kicked off. Big style!

These angry off-road machines will chew up and spit out pretty much any terrain you point them at (much like Jeremy Clarkson with a Green Party manifesto). As a kick-ass stag activity, rage buggies have everything you need for a monumental stag weekend; speed, aggressive driving, sporting competition and the chance to watch one of your mates park it in a tree.

Our Bournemouth stag party Rage Buggies really are a cut above other driving experiences. The seriously impressive machines are equipped with roll cages and awesome suspension capable of getting big air. They do tend to get a little bit sideways as well which makes it even more fun when you throw them around corners.

If you aren't convinced of their heavyweight status yet then bear this in mind: Rage Buggies are capable of reaching speeds of up to 60mph and have a massive 998cc capacity. This is serious stag action of the highest order.

You and your fellow stags will be taking on the recently extended course which features chicanes, hairpin bends, fast straights and corner slides, as well as more solid obstacles you'll be best to avoid. A great thing about this session is that it is really up to you what format it takes - whether you want to make it competitive with time trials, or just go on a casual drive without any added pressure... Yeah right! Bring on the speed!
Why not add...
You can have twice the laughs with a great deal when adding a second challenge to your Bournemouth stag do. Please ask our team for more details.
Or take it to the max with our Ultimate Stag Challenge. Read more...