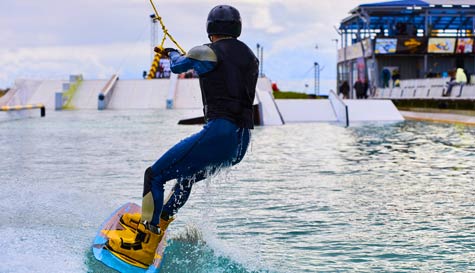 Wakeboarding is without doubt one of the coolest sports ever. Gliding effortlessly over the water, waving to passers-by, or falling flat on your face while the rest of the stags look on and let you know exactly what they think of your efforts.

Once you've squeezed into the wetsuits (and yes, we are relying on you guys to make them look good) you'll be introduced to the intricate cable system used to draw wakeboarding newbies and experienced boarders over the water. Each stag will then take it in turns to get wet with 1-to-1 instruction ensuring each stag gets the most out of the session and is soon up and waving to his adoring fans/fellow stags.

The cable system can totally controlled by the instructor allowing him to give each student a greater chance of starting successfully by slowing or speeding the cable accordingly and so the guys can make a good run over the water. This means the lads get to take off over calm, smooth water, so any failings will be his and his alone. Cable systems are much easier for beginners compared to boats as they don't create a spray or awake to disturb the water or get into the trainees face.

Of course, another of the great joys of our Bournemouth wakeboarding stag party is as each stag is hitting the water (in some cases literally and repeatedly), the rest of the stags will be watching his every move from the dry land and letting him know exactly what you think of his efforts.