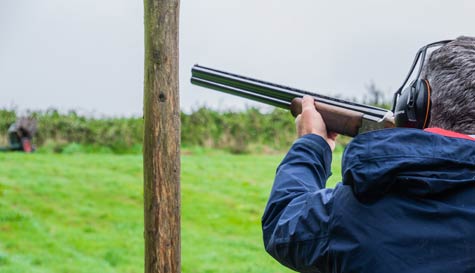 Clay pigeon shooting is an absolute stag party classic and it's easy to see why, it has everything you need to keep a group of blokes highly entertained;
A group of great mates
Stunning scenery away from the busy pubs and clubs
A really challenging sporting competition
Bloody big guns
The chance of at least one stag seriously hurting himself
(actually, our excellent staff are on hand to make sure this can't happen but don't tell the groom)
No good Bratislava stag do is complete without some sporting competition, when you throw guns into the mix you've got yourself some real stag excitement. Our Bratislava stag party clay pigeon shooting is a superb way to reopen sporting rivalries and answer the stag party Call of Duty to see, away from the games consoles, who really is deadly accurate with a shooter.
Shotgun version you'll be amazed by the incredible raw power involved as the gun recoils with each shot. Clay shooting is massively addictive and it just so happens to be something us Brits are very good at, with a hatful of world and Olympic medals in recent years.
The expert instructors will show you how to hold the guns and lean into the shot for a better stance and lessen recoil, they'll also give you a crash course in how to find and hit the target. Once you're all clued up it's time to get competitive and find out who is a complete hotshot and who couldn't hit a cow's arse with a banjo.
You receive 20 shots each as standard but this can be increased, ask our team for more details. If you want a really full day of sporting challenges you could combine our Bratislava clay pigeon shooting with any of the following;
Please speak to our Bratislava Destination Specialist for more details.