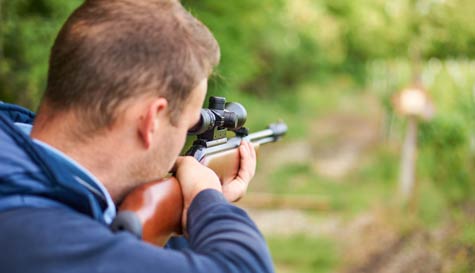 It's time to put your aim to the test and see who's the team's Top Gun. Air rifles are a great option for groups in search of a little healthy competition - and with everyone holding .22 air rifles and pistols, we'd keep it friendly. You'll be able to put your accuracy and hand/eye coordination to the test, proving your talent in the manliest of pursuits, shooting.

With a variety of targets set at varying distances, this is ideal for groups of all abilities, from professional snipers to complete amateurs. All the necessary equipment and training are provided, and all the weapons instructors are highly qualified - and highly accurate - marksmen. It's a stag favourite, guaranteed to bring out the boys competitive side, work on their all-important man-skills, and get some greater banter for the night ahead. To the victor go the spoils... And bragging rights over his fellow stags.

This is your very own stag do Call of Duty, while the lads might think they're a bit hot in front of a computer screen, how will they do when they've got a proper piece of metalwork in their hands. You'll have an experienced instructor on hand to not only keep you pointing in the right direction but help improve your skills.

To help spice things up during your Brighton air rifle stag party session we'd suggest you lay a few friendly wagers before kick-off, either a winner takes all kitty or a pre-arranged prize for the winner while you set pint penalties for the loser.
Why not add...
You can also build a full day of action by adding other activities that are all available at this superb site: