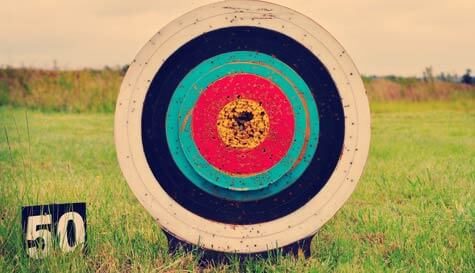 Us Brits have been fascinated with arrows for centuries; Robin Hood stole from the rich and gave to the poor with one, we gave the French a ruddy good thrashing at Agincourt with a shower of them, King Harold got one in the eye and Phil 'the Power' Taylor has been keeping Lakeside thrilled with them for years.
And now it's your turn.
Archery is one of our country's most historic sporting contests. Traditionally it was a very pure sport with little or no technology, purely a matter of skill. And very skilful indeed. To be able to draw a traditional English longbow took years of practice and indeed it was made law for all men over the age of 13 to dedicate time each week to practise with a bow so that they could be called on to help fight Johnny Foreigner. King Henry the VIII even banned football as it was considered to be distracting Englishmen from their archery practise.
In our Brighton stag party archery session, you'll be going head to head with all your fellow stags in this fantastic shoot out. As a sport, it takes strength, precision pose and a huge amount of taking the p*** out of your fellow stags to really get the most of it. It's not simply about being able to hit the target, it's about being able to hit the target knowing the rest of the guys are watching and waiting for you to make a mistake.
You can line up a complete Stag Challenge Day with a choice of 8 different activities.
Air Rifles | Inflatable Games | Laser Clay Shooting | Mud Buggies | Quad Biking