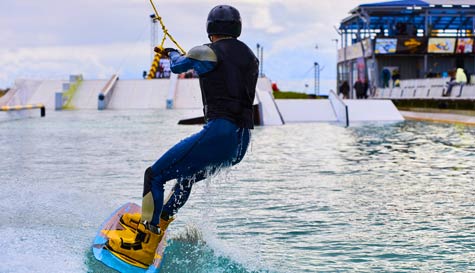 Fast, furious, wet and wild - these are all words that apply to the extreme thrill-ride that is wakeboarding. This awesome water sport is a combination of surfing and waterskiing, but it does have just one small difference from those two classics; you're being pulled with bottom-clenching velocity by a speedboat piloted by a (slightly mad) driver.

Wakeboarding can provide the perfect adrenaline rush to wake up the lads after a big night on the town. There really is nothing quite as refreshing as the sea breeze whistling through your hair as you cruise along the coast on a board that closely resembles the sort you'd ride down a snowy mountain. Of course, if all else fails there's always the chance you could fall into the rather fresh water - trust us, that's a bloody consistent hangover cure that you won't forget any time soon.

That being said, the odds of you falling in will be slashed rapidly as you progress through your session, as our experienced instructor will provide high-quality tuition and advice that'll soon see you carving up the waves like a pro. Even stags who've never surfed before will learn how to master their balance as well as their cable to control their direction through the wake of the epic speedboat.

Brighton wakeboarding is an adrenaline-pumping alternative to surfing. This is exactly the kind of high-energy fun that makes any activity on your Brighton stag do great, and there could be some cracking banter to be had here if the nearly-wed takes a plunge!