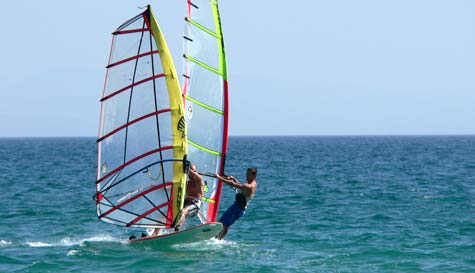 When you and your mates visit Brighton, a trip out on the waves is an absolute must and what could be a better way to see the beautiful coastline than on top of a totally radical windsurfing board? Our expert instructors will show you a number of modern techniques in order to get the most out of this great activity and will provide you with top of the range equipment to get you up and running within a matter of minutes.

Mastering this tricky water sport is hardly a breeze, but with our expert guides on hand throughout, it'll be plain sailing from the moment you first head out on the water. This combination of surfing and sailing is a little less wet (and chilly) than surfing but just as epic!

Impress and beach babes with your sublime board mastery, or treat everyone to a great laugh as you wipeout over and over again, falling unceremoniously, face first, into the chilly water. Once you've got the hang of this water sport you'll be turning like a pro and catching gnarly air of the lips of waves; don't get too cocky as the sea has a way of punishing arrogance! The boys probably won't have tried this unique board sport out before so it's sure to blow them away as they pull off tricks and own the waves.