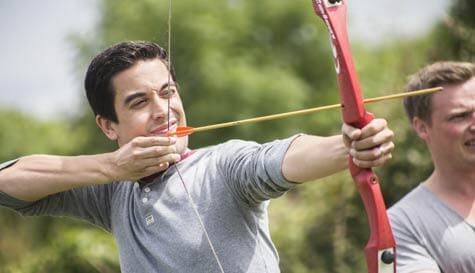 A test of nerve, skill, accuracy, hand/eye coordination, poise, balance and the ability to handle potentially lethal weapons... All in the hands of a group of hungover blokes on a Bristol stag do. Yep, game on!

You'll be given safety instructions, then a lesson on aiming and firing the arrows. And while we might jest, please do listen up because these things really do have the lethal potential and at the very least could leave you having to answer some very awkward questions from the bride-to-be about the groom's new piercing.

After a practice session, it will then be time for you merry men to get your game faces on and in a series of rounds you'll see exactly which of you is the best shot.

England has a fine tradition in archery, therefore to uphold this heritage StagWeb expects that every stag will do his duty.
Double bubble...
Why not add even more laughs to your day with a second activity? Ask our team for more details:
Archery QI
The English ability with the longbow defeated the French at both Crecy & Agincourt and made us "nearly invincible" to the Fench.
It was once law for all Englishmen to practise archery.
In medieval times an archery target was called a "butt". If your town/city has a street known as "The Butts" this will have been the town's archery practise field.
King Henry the VIII banned football as it was believed it was distracting young men from their archery practice.
Despite being a great bowman on foot and from the saddle he was also the first man to own a pair of purpose made football boots.
Big screen Robin Hoods include; Sean Connery, Russell Crowe, Kevin Costner.
Big screen Robin Hoods with bad/non-existent English accents include; Sean Connery, Russell Crowe, Kevin Costner.