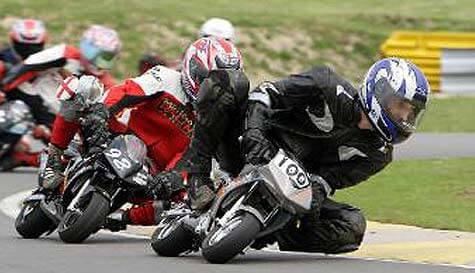 What with his impending wedding the groom might be feeling a little bit smug and considering himself "all growed up" so it's good to bring him back to down to planet stag and remind him that he's still the sports-loving, pint drinking, Lego reminiscing mate you all know and love (tolerate!).
Most of all you want to make sure he has a brilliant weekend with plenty of laughs and our Bristol stag party mini bikes are the perfect way to up the insanity and still make sure there's some great competitive action for the guys to get to grips with.
Standing an impressive 18" high these mighty micro machines are powered by 39cc 2 stroke engines that really do create an amazing amount of speed for something that keeps you so low to the ground.
A mad mash-up of MototGP and clown bikes, they really are hilarious fun, but this is a serious business, you'll be racing for glory or more importantly, racing to make sure you don't come last. Especially if you apply stag forfeits for the worst riders.
Overall mini motos aren't your average challenge which makes them ideal for a Bristol stag weekend, fast, furious and funkingly funny. Even better when there are a few bigger lads among the stags. It harks back to the groom's early days of racing on his bike as a kid, being low to the ground and a little bit out of control (perhaps like he will be later in the evening?).
"Gentlemen... Start your engines!"
After taking on this intense activity, we assume you valiant stags will have built up quite the hunger. With that in mind, why not add on a cheeseburger or hotdog and chips meal in the awesome on-site American diner for just an extra £6pp? Please speak to your Destination Specialist for more details.