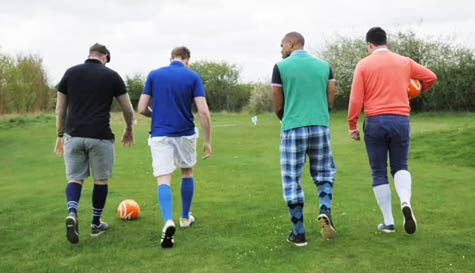 If you're a group of sporting lads heading on a Budapest stag do, footgolf is an absolute must. It is, without doubt, the greatest sporting mash-up ever, taking two of the world's finest sporting contest and distilling them down to a single challenge that will see the guys trying to bend it like Beckham, spank it like Spieth and play it up like Poulter.
We'll arrange for our lovely English speaking hostess to pick you up from your accommodation and take you to the fantastic 9-hole city course. This is a stunning golf course with amazing greens and brilliant golf facilities that also hosts footgolf (so unlike some footgolf courses, the fairways and greens are superb). The clubhouse has the all-important bar for drinks before and after the game. There's also changing rooms and fantastic panoramic views.
For those not in the know; Footgolf is exactly as it sounds, combining all the best aspects of both sports without actually having to do anything unpleasant (after a night on the beer) such as running or sweating. Essentially it is exactly like golf but you kick footballs to large-sized holes rather than hitting little balls with heavy clubs (another bonus, no heavy golf bags to carry). So yes, it's golf played with the foot, the clue was in the title.
It's a gentle game that allows for some brilliant banter while all the lads show off their footballing skills. With our fantastic footgolf, you can pick your own partners, foursomes, etc and set your own prizes, fines, bets, dares, and penalties. Game on.