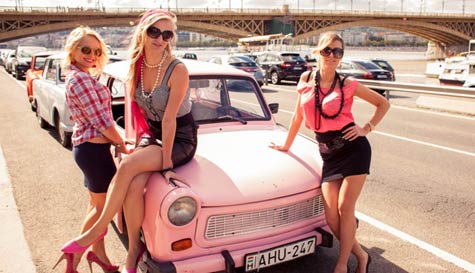 Top Gear fans will love taking on their own European 'Top Gear Challenge'. This is a once in a lifetime opportunity to drive one of Europe's most celebrated/ridiculed collectable classics through the streets of Hungary in this Trabant Tour. The Trabant vehicles are absolute icons of Eastern European engineering - their equivalent of the Volkswagen but a hell of a lot more quirky.

And just to up the ante, the groom's car will be a bright pink Hello Kitty Trabant.

Renowned for being unreliable, cheap and infamously slow (no, we mean the cars, not the groom) - with a two-stroke engine offering a massive top speed of 56mph!!! Ok, so they might not give you the white knuckle ride of your life, but they are a hell of a lot of fun to drive around the beautiful Pils Hills near Budapest.

After being met at your accommodation by an English speaking guide, you will head out onto the road with three people per car - a pilot and co-pilot - and race out of the city into the Pilis Hills to your meeting point.

There you will enjoy lunch giving you and the cars a chance to rest and refuel whilst you wind up your fellow stags/competitors, before swapping drivers and speeding off back into town to see who will be crowned the Kings of the Road.

PLEASE NOTE: The following info needs to be provided by participants at least 1 week before arrival:
Client's name
Mother's maiden name
UK address
Passport number
Driving licence number.
If you are unable to provide this information, you won't be able to drive, but you can still participate as passengers.