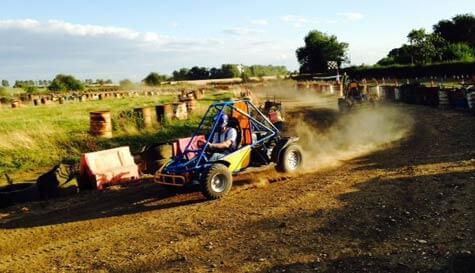 Off road driving simply doesn't get better than this! You and the guys will take the hot seat of 400cc Liberator rally karts, complete with zero-roll suspension, all-terrain tyres and a full race Corbeau seat with full safety harness. They're easy to learn the controls but learning to drive them will separate the stags from the boys.

These angry four-wheeled-drive beasts literally eat up any ground you point them at and will tackle any obstacle with varying degrees of success, so while the idea of seeing the groom park it on the tyre wall or halfway up a tree might sound great, we'd ask you to try and keep the karts shiny side up at all times and get the groom home in one piece. Which in these things is easier said than done.

Once you've got the hang of it, it's go time! You'll face a series of qualifying races before a grand final complete with Le Mans style start (running to the karts and buckling up before you get moving).

The track is designed for the maximum thrills and spills and really doesn't take any prisoners. Overtaking opportunities are deliberately infrequent which ups the ante, as when the chance opens you really have to take it if you want to grab the lead.

At the end of the session your stag party Stig will be presented with a trophy but we'll leave you to decide a suitable forfeit for your own Captain Slow.

As an added bonus, once the dust clears you can then hop onto a fleet of quad bikes to see if you can wrestle back some of the dignity that you left lying on the race track.