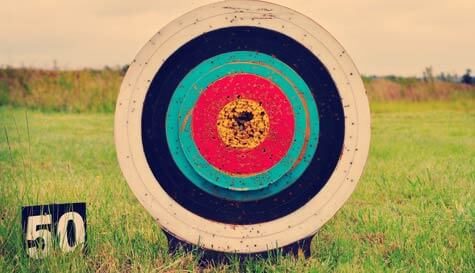 All stag dos require a few basic ingredients, lots of laughs, a few drinks and some great stag competition. If that stag competition happens to be in the form of potentially deadly medieval weaponry then even better.

Skill, balance, poise, accuracy, vision, timing, hand/eye coordination and a light touch are just some of the things a group of hungover stags will be lacking. However, those of your band of merry men that can get their game faces on and centre their deadly eye for target will surely grab the title and bragging rights from the rest of the stags.

To make things a little more interesting you can also up the ante with a little gentlemanly wager, or forfeits/pint penalties for the losers. Shoot as individuals or split the lads into teams to keep the banter and rivalry going. This really is a game of "arrows" with a difference and you'll be surprised at the level of skill required for consistent dead-eyed accuracy. After initial instruction from the expert, you'll then shoot in a series of rounds.

Let's... Play... Darts!
Add even more stag action!
You can double the fun by adding another challenge at this multi-activity site. Fees apply for additional activities: