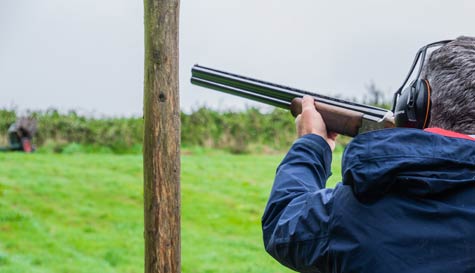 As macho pursuits go Cardiff stag party clay pigeon shooting is right up there with the very best of them. If you're clay pigeon newbies, there is nothing quite like the thrill of pulling the trigger on a 12 bore shotgun and watching the clay pigeon become clay dust. And a bit of sporting competition and some stag banter and you're on to a winning afternoon.

Forget sitting at home on the sofa staring at a screen, if you really want to answer the Call of Duty and find out once and for all which of you is the best shot, this is the chance.

Cardiff stag clay pigeon shooting is not only hugely competitive, as a sport it's also massively addictive and with the expert instructors on hand you can be sure all the guys really will get he most out of the session and you'll soon all be plucking birds from the sky like a slightly less aggressive, stag friendly Dirty Harry "Go ahead punk, hit my clay!"

At the end of the session one stag will reign victorious, he'll probably rub it in for the rest of the day as well but that's the joy of stag weekends.
More bang for your buck!
You can double the fun by adding another challenge at this multi-activity site. Fees apply for additional activities.