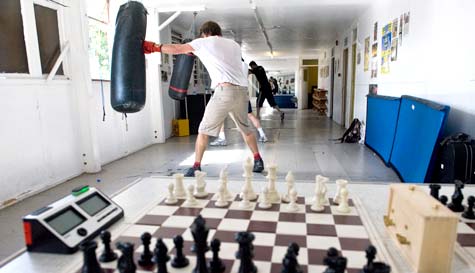 Frank Bruno, Amir Khan, Carl Froch, 'Prince' Naseem, David Haye, Ricky 'the Hitman' Hatton, Joe Calzaghe, Lennox, Eubank, McGuigan, Henry Cooper... The list of great British boxing greats really is quite impressive for our nation's relatively small size.

But did these guys have the smarts out of the ring? And what happens when you mix brains and brawn in a complete stag battle? There's only one way to find out... Fiiiiiiight!

You and your fellow stags will go toe to toe in a unique combination of boxing and chess. Pugilism and perspicacity meet in the ring and across the board as you'll slug it out in alternating rounds of the two very different gentlemanly battles.

This is a great way to start any stag do. Chess boxing consists of alternating rounds of chess and boxing. You can win by either check-mating your opponent, knockout (unlikely to happen in a stag party), judges decision or if the opponent fails to make a chess move in his permitted time. If the chess reaches a stalemate, then the player with the most points in boxing will be the winner.

No one actually gets hurt due to strict supervision and the full protective gear, however, there might be a few bruised egos. And possibly a queue of opponents waiting to take a few shots at the groom. Alternatively, this could be the perfect chance for the groom to sneak in a few jabs ahead of his best man's speech.