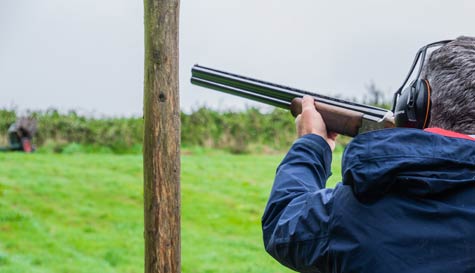 One classic ingredient of any good stag party is some sporting competition. If that competition happens to involve bloody big guns, even better.

While we might jest, these weapons are hugely powerful as anyone of your fellow stags who hasn't had the pleasure of firing a shotgun before will soon find out. These guns really do have quite a recoil. Thankfully there'll be a qualified instructor on hand to keep you all safe and show you how to hold and aim a double bore Browning shotgun. He'll also give you expert tuition on how to "lead" the target to improve your shooting. Even the most wayward shot will be scattering clay dust by the end of the session.

Our Chester stag party clay pigeon shooting site is one of the best in the country, offering the highest quality shooting experience set in the superb Cheshire countryside. Facilities on-site are also first-rate, and importantly you are undercover to give you a break from the sun or in case of bad weather.

Each member of the group will shoot 25 clays and even for the most responsible and grown-up of stags, there is just something completely badass about holding such a powerful gun. Most importantly though you'll be shooting against your fellow stags to take the stag do top gun title. The site offers the following awesome disciplines to cater for all groups:
Compact Sporting
Ball Trap
Down The Line
High Tower
Low Tower
Skeet
Olympic Trap
Private Tuition Area
All in all, the classics never go out of style, and when you experience clay shooting in Chester, you will know why.

NOTE: If you fancy an even more epic session, you can upgrade your package to include either 35 or 50 clays. Please speak to your account manager for further details.