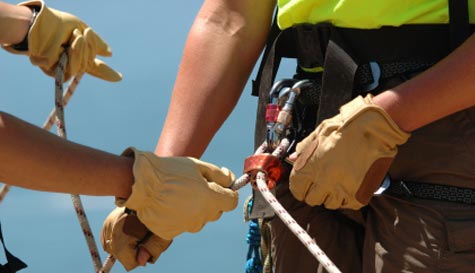 Every lad loves a good game of Jenga. You can't deny it. On a wet weekend, stuck in a caravan when you were a kid, Jenga was the only thing stopping you from slipping into complete and total boredom. Now, with this crate stacking stag party in Woolacombe you can revitalise your love of challenging building blocks with an activity that might look innocent at first, but you'll soon discover that crate stacking is a real test of skill and athleticism as you compete to try and build the tallest, and probably most unstable towers out there.

You'll really need to communicate with the lads and try to channel all your dads' practical wisdom he's desperately tried to teach you over the years in order to succeed in this stacking challenge that's sure to create as much laughter as it is raw mayhem as the groom goes flying from the top of a 20-foot crate tower. Although it's not the most traditionally exciting stag activity, our crate stacking stag party is a banker for banter as your party will split into two teams to compete against one another to build the next Eiffel Tower out of crates (or leaning tower of Pisa, most likely).

But with no cranes or ladders, you'll have to rely on the stability of your safety harness and your own climbing prowess in order to achieve victory and crown your team as the ultimate stag crate stacking champions (a title surely claimed by no other stag group!) which is sure to be hilarious when most of your party could potentially be suffering from epic hangovers...
But yes, this could also be just what those hangovers need. Or it could finish the lads off completely. There's only one way to find out...