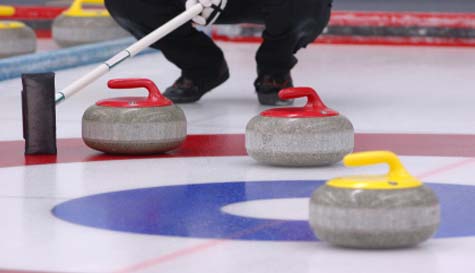 When you first set off on a stag weekend, you imagine go karts, quad bikes, paintballing and lap dancers, why wouldn't you? It's a stag weekend! But there might be something else, something slightly unusual here that might be the best thing you and the boys do all weekend. Our stag party curling is epic sporting fun that'll have you and the boys slipping and sliding on the ice as you try to get these massive stones (that are heavier than they look by the way at an average of 18kg) as close to your opponents target zones as you can.

After you've got kitted up for action and you've been shown to the equipment you'll be playing with, you'll be taught the rules of the game which isn't a bad thing considering the odds are pretty good that most of the lads won't be dedicated curling experts before taking to the sheets yourselves. Here you'll need to use all the curling skill you can in order to win and to take home all the bragging rights. This sport might not be as fast and furious as other sports that feature in the Winter Olympics, but it's certainly just as intense and an awesome competition for you and the boys to get involved in.

If you're looking for something a bit different on your stag weekend, then our stag party curling might just be the thing for you. Be warned though, don't get home and show off to the missus about what a sweeping genius you were, unless you want to find yourself becoming a regular Cinderella without the benefits of a party invite.