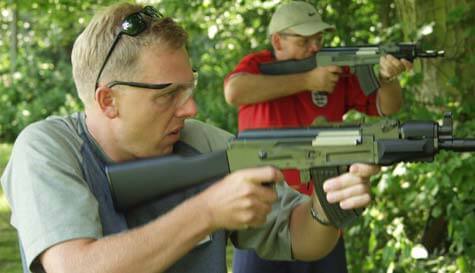 Listen up boys - This is going to be the heist (and stag do) of the century. Now we're not suggesting you're "dodgy geezers" we're just saying if the (burglar's) cap fits, wear it. You might turn out to be naturals.

Grab your assortment of likely lads and get planning 'the next big job', we'll have some old lags handy to show you the ropes with weapons training and tactical planning, but these guys ain't no muppets so you can expect a few firm words as they drag you into shape until you're all sharp enough and fully tooled up to get the job done.

If the groom has a hefty DVD collection with all the usual suspects (Lock Stock, The Italian Job, Heat, etc) then he'll love our Diamond Snatch which is his chance to get his hands dirty, although it's probably best to make sure he keeps his gloves on at all times. This isn't the Great Train Robbery and you don't want to have to move to Brazil. This is no common snatch-and-grab; this is a heist worthy of Ocean's 11 (I think we can all agree, the less said about Ocean's 12 and Ocean's 13 the better) and it's going to take brains as well as brawn.

This is a premier league, action-packed day, learning how to shoot and take out any potential problems, kicking in doors and heading through windows. This is a truly epic stag party challenge that the lads will be talking about for years. And who knows, learn enough tricks and one day you can all retire to the Costa del Crime to rub shoulders with fellow ex-blaggers.