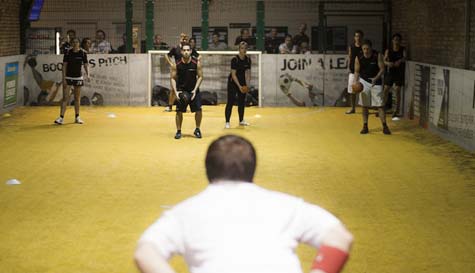 Dodgeball is one of the funniest team sports around, to get the lowdown we asked our dodgeball expert for 7 things you might not know about dodgeball.
It's one of the few sports where you get to throw a ball as hard as you like at the oppositions' gentleman's vegetables without getting sent off.
Dodgeball is great exercise and really easy to get the hang of. If you don't move you get hit but because it's so much fun you don't even realise you're getting knackered.
Dodgeball is officially the most sociable sport in the history of the world. And possibly the universe. Where else can you throw a ball at your mate's face and laugh about it?!?
You can run around as much or as little as you like: be a dodger, a thrower, a catcher or a roll-around-on-the-floor-clutching-your-jewels-er.
Team names and team kits should reflect your squad - the weirder the better.
Dodgeball is a great ice-breaker for lads that haven't met before and a good way to make friends (unless you're a bit of a git).
It's a great way to work up a thirst.
As ice breakers go, dodgeball is perfect. It doesn't matter how good or bad all the guys are at the sport, dodgeball suits all ages and abilities, so if the bride's dad is in the stag party he can join in with the rest and get a few shots at the groom for having had the temerity to take his daughter away.

It's socially acceptable violence, you can legitimately bowl a googly at the groom's googlies and still be sticking to the rules. Hilarious sporting action that suits all abilities.

But we'll leave the final words to Patches O'Houlihan (A.K.A. actor Rip Torn, Dodgeball) "If you're going to become true dodgeballers, then you've got to learn the five D's of dodgeball: dodge, duck, dip, dive and dodge!"