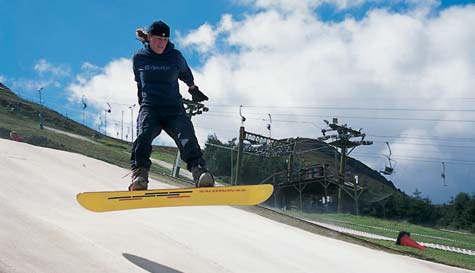 You don't need to buy some books and one of those stupid hats, pack a bag, fly to the French Alps, drink hot chocolate in a wooden lodge and get on one of those ski lift things halfway up a mountain just to try your hand at skiing. At StagWeb we revel in bringing stags face to face with exciting new challenges and skiing is no exception. Britain doesn't have enough snow...? No problem!

With our dry ski activity, you can enjoy the best skiing action with none of the cold or dressing like a Teletubby. You still get all the white knuckle wintry thrills that are sure to inject a healthy dose of banter and competition into your big weekend as you fly down the slopes at full speed but none of the frostbite.

If you're a skiing novice then there's plenty of help on hand to teach you how to get the most out of your skis, so it won't be long before you're up on the steeper slopes playing out a real-life game of SSX Tricky.

And if all that doesn't satisfy your urge to hit the snow on your stag weekend, then we do have some incredible indoor centres around the UK that offer ski-slopes with real snow to offer you the complete artificial ski experience.

This dry ski event is adrenaline pumping, thrill-seeking fun that'll get all the lads fired up as you tear up the slopes before your stag party heads back to the hotel to get ready for the big night ahead.