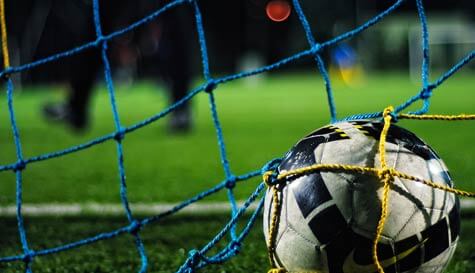 A kick about down the local park, a pie and a pint at the game, shedding a few manly tears over the team getting relegated - it's obvious to us that football and friendship go hand in hand and so what could be more perfect than treating your friends to a game of 5 a side on your stag weekend in Dublin? Out on the pitch is where friendships are made and cemented, so why not nurture those beautiful bromances before you hit the town for a night out? Get the footy shirts on and make your best moves but keep the dramatic 'injuries' and ridiculous hairstyles on the down-low, please?

Football is also a really budget-friendly option you can add to any Dublin stag weekend package or build your own tailor-made stag weekend.

Our football facility in Dublin is one of the best around and with full floodlights, outdoor 5-a-side pitches which are fully enclosed with rebound boards and the astroturf playing surface will allow a fast-paced, free-flowing game of footie. The site also hosts a great sports cafe equipped with changing facilities, storage facilities and WCs which means that you and the boys can get all cleaned up and ready to go for the next part of your stag in a flash or grab a post-game drink to discuss the game and award pint penalties where appropriate.