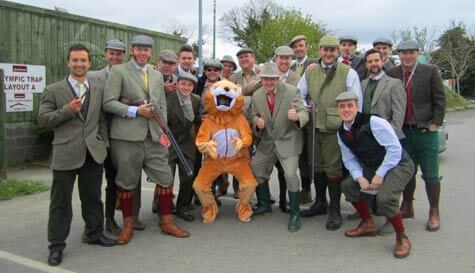 For the uninitiated clay pigeon shooting is just awesome!

If you haven't picked up a shotgun before, the first thing you notice is the weight, the next thing you'll find out is that they are chuffing loud! It's not until you have that sound next to your ear you really appreciate it. The kick of the gun is a bit of a surprise too and yes, some of the stags will end up bruised. Finally, there is the thrill of hitting your first clay. Stagtastic!

Founded by a former Irish Olympian, the site is used by the Irish Olympic team and houses a range of different traps perfect for stags who like a bit of competition as you seek to find out who is your stag parties Top Gun and who languishes in last place (and who should probably get their wallet out for the first round afterwards).

Take it from us that this is a total blast; a fast-paced test of nerve and accuracy. After arriving at the venue, the CPSA certified instructors will give you a quick briefing before helping you get familiar with your shotgun through some practice shots. Once everyone is ready and confident, the competition will start, allowing each of the stags to show off their skills, with a prize awarded to the sharpest shooter. Our shooting grounds also have handy catering facilities, so remember to bring some cash for food and drinks. Clay shooting is one of the most popular stag activities with good reason as it always goes down well with any group of competitive stags and as it doesn't break the budget you can line up other activities for the day.

NOTE: If you want to upgrade your package to 50 clays each, you can do so for an additional £15pp. Please speak to your account manager for details.