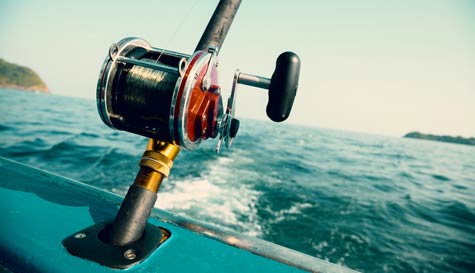 "You're gonna need a bigger boat." Have your Jaws quotes at the ready for a day of stag party deep sea fishing in Dublin.
You can charter your own boat complete with a skipper to have some water based stag competition. You'll be heading to the scenic waters around Howth, a fishing and yachting port close to Dublin. These rich waters have over 80 species of fish, all just waiting to land in your net. All the rods and bait will be supplied.
If you're a keen angler, a hardy sea fisherman or a total rod virgin, this is a fantastic spot to cast a line. You'll be taken out by an experienced local guide who knows all the best spots. You can try fly fishing or bottom fish for bigger species. These are rich waters with a long fishing heritage.
For sustainability, we recommend catch and release fishing which won't affect natural fish stocks in the waters. It's always good to respect the ocean, that doesn't mean nice guys will come last, you can set up a little competition amongst the guys and add your own prizes/forfeits for the day's best/worst fisherman.
Top 5 Jaws Quotes for Deep Fishing Stag Parties
5 - "Eleven hundred men went in the water, three hundred and sixteen men come out and the sharks took the rest." - Quint
4 - "Smile you son of bitch!" - Chief Brody
3 - "What am I gonna tell the kids?" - Ellen Brody
"Tell 'em I'm going fishing." - Chief Brody
2 - "I'm not going to waste my time arguing with a man who's lining up to be a hot lunch." - Hooper
1 - "You're gonna need a bigger boat." - Chief Brody